It is early October and a foot of snow has fallen in Billings Montana. It is 5:00 pm in New York City and you are sandwiched between two strangers on your subway ride home from work. You have been searching for a job in Kansas City for six months with no success. Any of these scenarios are more than enough to make you want to pack up and move somewhere that will give you a chance to enjoy a better lifestyle. If you want a place that appeals to all types of people, San Diego is an obvious choice.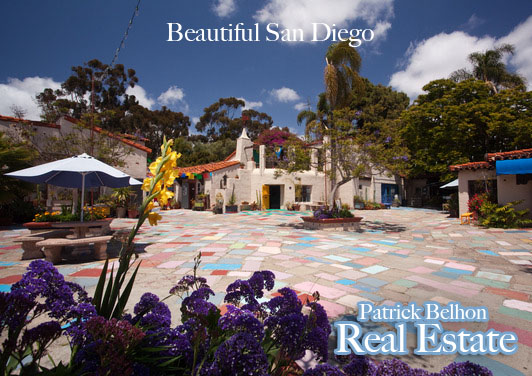 Relocating to San Diego is a lot easier when you have a real estate professional to help guide you through the process. Patrick Belhon is a local San Diego real estate expert who is just the right person to assist you in relocating to beautiful San Diego.
Mr. Belhon works with buyers, sellers and investors to help them get the best deals on single family homes, condominiums and all other types of residential real estate. He can be an invaluable source of information if you are trying to find a location for a new business or buy an existing business. Real estate investors can benefit from his impressive local knowledge of the entire area. He knows where property values are the best.
Location is always the catch phrase for all real estate transactions. Patrick Belhon always looks out for every client's best interest. Whether he is showing you a million dollar dream home in Del Mar or a condo overlooking the Pacific Ocean, you can trust him to get you the best deal possible. San Diego sells itself, but Patrick Belhon will make sure you buy the perfect piece of real estate.


There are very few places in the world that have better year round weather than San Diego and Southern California. A daily average temperature of 70.5 degrees and monthly rainfall that averages less than one inch per month, makes San Diego a great place for enjoying the outdoors at anytime of the year.
A diverse topography can result in fairly wide differences in temperature on the same day. Coastal breezes, mountain air and desert sun all affect San Diego weather.
Dry summers are typical with rainfall averaging less than one tenth of an inch in June July and August. Daily temperatures range from the low 60s to the high 70s and low humidity keeps everyone comfortable.
Rainy season, if you can call it that, runs from November through March. Average monthly rainfall is between one and two inches. Temperatures generally run in the mid 50s to mid 60s with a few rare days dropping into the 40s.


Seventy miles of pristine coastline, covering such famous beaches like La Jolla, Mission Bay, Del Mar and Coronado, make San Diego County a beach-goers paradise. A daily surf report lets the pros know where the biggest waves are breaking. There are beaches that cater to families and those that are secluded and great for romantic walks under the moonlight.
You can walk along the boardwalk, grab a bite to eat and go on the rides at an amusement park. Beach volleyball players populate the many courts and there is always an impromptu game of Frisbee. Even pet owners have special beaches designated for their dogs to run around and romp in the surf.
Sailing, scuba diving, fishing and many other activities revolve around San Diego's beaches and Pacific waters. Anyone who enjoys the fresh sea air, sunshine and surf will have a marvelous time at the many different San Diego beaches.


Balboa Park is a huge public space that is home to museums, botanical gardens, wide open spaces, restaurants and, of course, the San Diego Zoo. Kids can take a ride on the festive carousel or board the miniature train for a scenic tour of the grounds. There are plenty of trails for hikers and shady places to sit down and relax.
Choose to spend the day at Seaworld or maybe you would like to take a whale watching tour out in the harbor. Legoland will keep your kids happy for hours and everyone will find the U.S.S. Midway Aircraft Carrier Museum very interesting and educational.
Wrap up the day with a stroll through the historic Old Town section of the city. There are festivals that celebrate the Latin culture and restaurants where you can get a memorable meal. Old Town is great during the day for families and becomes a little more of an adult playground at night.


Even if you travel south of the border to Mexico, you will be hard pressed to find any better tasting, authentic Mexican cuisine than you will find at some of the finest restaurants in San Diego. Whether you are looking for a five star French restaurant with a fantastic wine list or a neighborhood cafe for a hearty breakfast, your choices are almost unlimited. The problem is not finding someplace good to eat, but, choosing from all of the possibilities.
An Economy that is Moving Forward
A major driver of the San Diego economy is a very large U.S. Naval Base. Ship building and the defense industry also contribute to the local economy. A busy commercial port and a burgeoning cruise line industry provide thousands of high paying jobs.
Other industries that play a part in the diverse local economy include leisure and hospitality, manufacturing, technology and professional services. Many others work for the local government, in the medical field and in the area's schools and universities. While unemployment is still too high, signs are pointing to an economy that is improving and moving forward.


If you are intrigued by all that San Diego has to offer, why not take a little vacation to see it for yourself. You can check into a very nice and affordable hotel like the Mission Valley Resort and then call San Diego real estate expert, Patrick Belhon, who will be happy to show you the different neighborhoods and homes that make up greater San Diego.

Find related article on our Google+ page